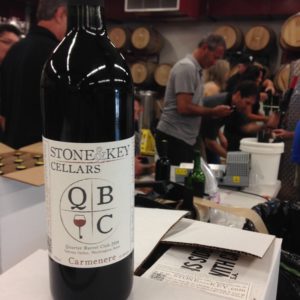 Chances are you've heard about the Quarter Barrel Club if you've stopped by our winery, Stone & Key Cellars. This one-of-a-kind experience is offered at the beginning in the Fall and extending throughout the following year as six unique wines develop to perfection. Each of the 24 members of the Quarter Barrel Club will become a part of a social group that will meet throughout the year to crush, press, sample, bottle, and then take home a case of each of the six wines for each share that they purchase.
On Friday, October 9th, we will be doing the first crush of our Carmenere and want to invite you to help take part in it! Whether you have been a long standing member of the Q.B.C. or are just curious to see a little more about how wine gets made, this is the perfect event for you. We will be sampling the previous year's reserve of wines, and will be providing hors d'oeuvres as well.
If you are interested in joining the Quarter Barrel Club and receiving high quality wines for just $13 a bottle (retail price 24.95)  then certainly stop by the winery or give us a call at anytime. This year, the Q.B.C. will be creating wines using grapes from the Yakima Valley, WA region including Syrah, Carmenere, Cabernet Sauvignon, Merlot, Sangiovese, and Oaked Chardonnay.