Barrels of Fun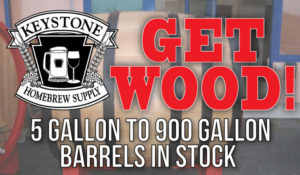 A growing trend that we has seen in the brewing industry is the exploding popularity of wood and barrel aging beers. More and more breweries are blending the flavors of their classic beers with the distinctive flavors of oaked bourbon, whiskey, and more. So if it's good enough for the pros, it will be good enough for you, too! Keystone Homebrew Supply is proud to carry barrels of all sizes from renowned local distilleries including the award winning Dad's Hat, Journeyman, New Liberty, and more! When we say all sizes, we mean we offer barrels as small as 5 gallons, and as large as 900 gallons! The supply is dynamic, so sometimes we have 8 or 10 gallon barrels, and we generally have 15 gallon and 53 gallon barrels on hand. Larger sizes are usually special orders.
By using a used spirits barrel, not only are you imparting an oaked flavor to your beer that adds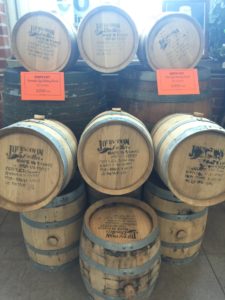 complexity and flavor, you are also imparting the flavor of the spirits previously used as well. This can't be truly replicated by any other brewing means, and will take your beer to new heights.
If you are new to brewing and barrel aging, our staff is happy to walk you through the process of preparing both beer and barrel for fermenting. If you're picking up one of our extract or an ingredient kits, you can add any of our five gallon barrels to your order for just $75.
Come to either of our locations (Montgomeryville or Bethlehem, PA) to see our selection for yourself, or check out our online store and have a barrel shipped to your home! To see our online selection, click here.
Visit Our 2 Locations
[ get directions ]  [ view hours ]
Montgomeryville:
435 Doylestown Road
Montgomeryville, PA 18936
(215) 855-0100
Bethlehem:
128 East Third Street
Bethlehem, PA 18015
(610) 997-0911
We Accept Payment By