Happy Birthday, Charlie Papazian!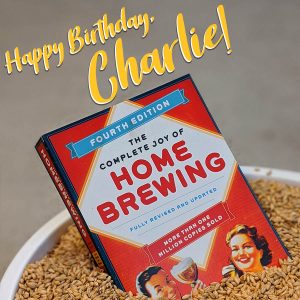 Charlie Papazian wrote what is often considered to be the homebrewer's bible. His book "The Complete Joy of Homebrewing" is an all-time best seller on the subject. The wisdom inscribed within in the pages of this precious tome have guided so many of us early on down the righteous path of homebrewing. It's a comprehensive read filled with helpful tips and fun facts! Even if you've already brewed your first (or twentieth) batch of beer, this book will help you brew better!
To celebrate this special day, we're including his book for FREE with the purchase of any 5 gallon homebrew equipment kit (while supplies lasts). Already have the book? That's cool! We'll still knock $20 off the equipment kit, instead! This sale will be active from 1/22 – 1/24 (because we believe in the birthday week).
Online shoppers: use the code "CHARLIE" at checkout.
In store shoppers: you must show this post to a Keystone staffer at checkout.