Introducing a New Seminar Series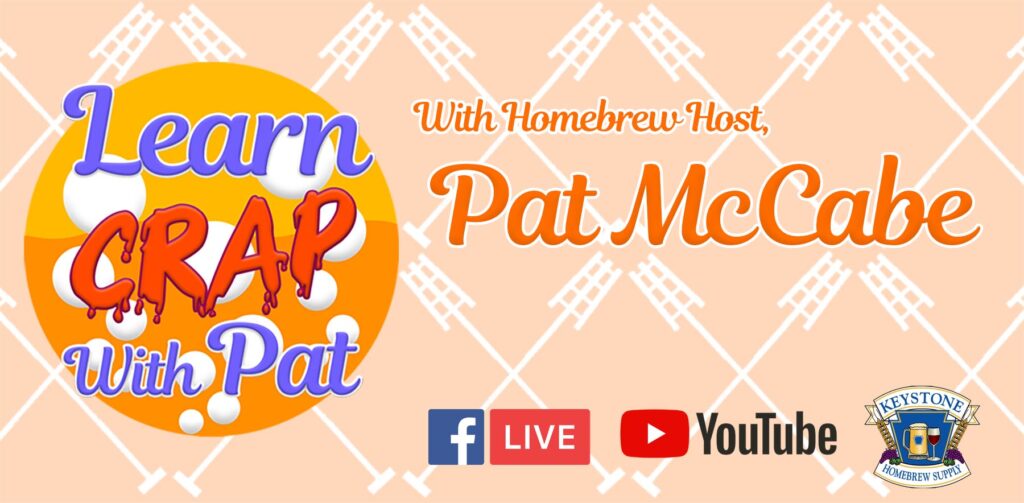 You're invited to join professional homebrewer Pat McCabe as he explores a wide variety of brewing topics from essential basics in fermentation to space-age advancements in homebrew tech! This weekly LIVE SEMINAR SERIES will happen right here at the Keystone Homebrew shop for anybody to come join in the fun! We will also be streaming live on Facebook and posting recorded episodes on our brand spanking new youtube channel for your learning pleasure! So don't miss out, and come join the fun as we Learn Crap with Pat!
UPCOMING CRAP
The crap starts around 10:45am day-of-show both in store and Facebook live. Recorded youtube episodes will be uploaded whenever we feel like it.
Sat 7/17 "Upping Your Game – Moving from Bottling to Kegging" 1-1/2 hours
– Everything you wanted to know about homebrew and commercial kegging.
– Review of all equipment, fittings and techniques
– Homebrew kegging demonstration
Sat 7/24 "Dirty Little Secrets – How to Clean and Sanitize Like a Pro" 1 hour
– Review of cleansers and sanitizers
– Helpful products to make your job easier
Sat 7/31   "Ingredient Spotlight – Malt and Hops"    1 hour
– In-depth discussion of malts and hops
Sat 8/7   "Ingredient Spotlight – Water for Brewing"    1 hour
– Discussion of water basics and profiles
– Review of chemical additives
Sat 8/14   "Ingredient Spotlight – Yeast"    1-1/2 hours
– Discussion of yeast basics
– Discussion and demonstration of making a yeast starter
– Yeast cultivating
Sat 8/21   "There's an App for That! Using Brewing Software" 1-1/2 hours
Sat 8/28 "Work Smarter, Not Harder – Products You Didn't Even Know You Needed"       1 hour