Super Pro-zyme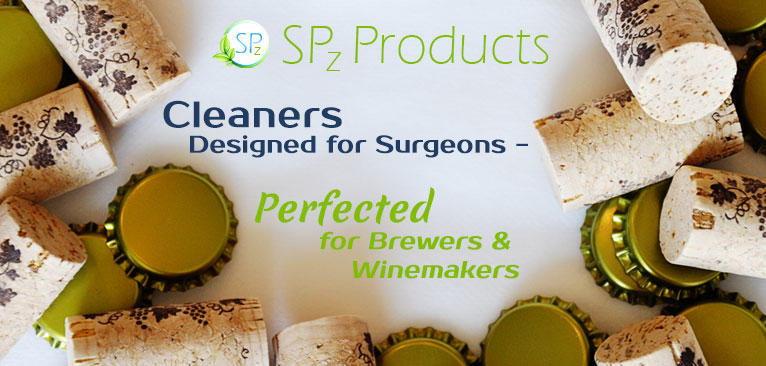 Cleaning and sanitizing is one of the most critical steps to beer and wine making success. Knowing the best ways to clean your equipment is important. Only clean equipment can be sanitized.
Manually cleaning equipment can be effective, however it is time consuming, and scrubbing with brushes can leave tiny abrasions in glass or plastic carboys that can be perfect hiding places for bacteria. Powered cleaners can create "hot spots," (weak points) in your equipment leading to cracks or breaks down the road. Enzymatic cleaners like Super Pro-zyme can clean away the soils that bacteria need to stay active, without causing scratches or abrasions. Plus, Super Pro-zyme can get into those hard-to-reach corners and places that brush can't. The liquid formula is non-corrosive, so it won't create weak points in your carboys.
Some cleaners on the market are not for use with all metals. Super Pro-zyme and all of the other SPz Products cleaners are safe for all metals, including aluminum. They also won't harm septic systems.
Super Pro-zyme was rated top cleanser in the June/July '12 issue of Wine Maker Magazine. Read the article it here.
---
We currently offer 2 SPz products cleansers:
Super Pro-zyme

A concentrated, low foaming multi-tiered enzymatic cleaner that is safe to use on all of your brewing and wine making equipment.

Engineered to remove heavy bio-burden (carbohydrates, sugars, fats, and lipids) from surgical instrumentation in places not visible to the human eye. These same base elements of bio-burden are left behind after making beer or wine and are the breeding ground for bacteria.

A fast and effective way to remove stubborn organic encrustations on all of your metal, plastics, glass and rubber equipment.

Quick-Shot™

The Quick-Shot™ enhanced foaming system produces super clinging foam for outstanding soil penetration.

Designed to break down stubborn organic matter on equipment and utensils while staying wet. Spray it and forget it until you are ready to clean up, even if it is hours later.

Eliminates Messy Spills – Clinging foam works on the toughest brewing residues. The microbiological control agents in Quick-Shot™ inhibit bacterial growth in the ready-to-use foam solution.

Safe and non-corrosive. Effective for stainless steel, tungsten carbide, aluminum, brass and all other metals, plastics, glass and rubber.
Visit Our 2 Locations
[ get directions ]  [ view hours ]
Montgomeryville:
435 Doylestown Road
Montgomeryville, PA 18936
(215) 855-0100
Bethlehem:
128 East Third Street
Bethlehem, PA 18015
(610) 997-0911
We Accept Payment By