Shipping & Return Policy
Free Shipping on $100+ Orders: Order $100 worth of supplies and we'll ship it to your doorstep for FREE. You can't get much easier than that. (Do you want us to pitch the yeast for you, too??) East of the Mississippi only; some product restrictions apply.
$8.99 Flat Rate Policy: We always offer flat rate shipping (for most of our products) to anywhere in the continental United States, regardless of order total. If your order qualifies, you'll see this as an option at checkout!
________________________________________________________________________________________________________
We generally ship packages via FedEx Home Delivery or FedEx Ground, unless a different service is requested. Most orders are shipped either the same or next business day. You can review our Return Policy (below) and our Privacy Policy. Feel free to contact us with any questions you may have. Our online shopping cart will provide you with an estimate of the cost of shipping your order. Actual cost may vary, particularly for orders requiring multiple packages or packages over 3 cubic feet. If there is an additional charge associated with your order, we will contact you before we proceed. The following map shows the various shipping zones and transit times for FedEx Home Delivery and FedEx Ground: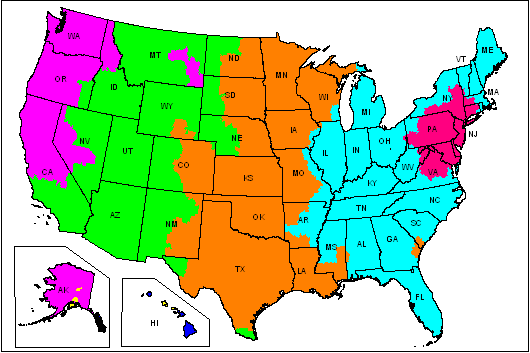 Return Policy
Keystone Homebrew Supply will provide a refund or replacement of any product(s) damaged during shipping. Please contact our Montgomeryville store via phone or email to explain the problem and to receive instructions on whether and how to return the damaged item(s). If a return is required, we will cover the return shipping costs for any items damaged during shipping or received in error.
We want our customers to be happy with their purchases! If you are unsatisfied for any reason, you may return an unused, non-perishable, normal stock item for a full refund (not including shipping charges) within 30 days of purchase. After 30 days and up to 90 days, we will refund 80% of the purchase price of such item. Returns may be made in person at one of our stores or shipped to our Montgomeryville store at the customer's expense. Please contact us for an Authorization Code before shipping any returns, and write the Authorization Code on the outside of the package. Such items must be received undamaged in order for a refund to be granted. It is our policy not to accept returns after 90 days of purchase. Perishable items, which may not be returned under this policy, include wine kits, malt, hops, yeast and other consumable ingredients.