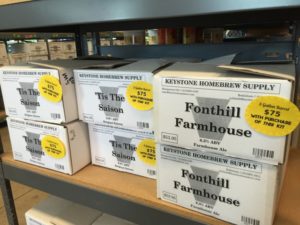 Barrel aging your beers is all the rage nowadays. All the cool kids are doing it (looking at you Free Will Brewing Company). So we want to help all brewers get into the craze by offering all of our 5 gallon barrels for just $75 when you buy any of our ingredient kits! This offer applies to both extract and all-grain kits. We are happy to walk you through the technical aspects of brewing in a barrel, and have a few kits listed below that we think would go particularly well with some barrel aging.
Ingredient Kits can be found by clicking here.
5-Gallon Barrel Options can also be found here.
Recommended Kits:
Fonthill Farmhouse
'Tis the Saison
Monkey on Mailbock
Old Tosspot
21st Century Imperial IPA
Stout, Stout, Let It All Out
Ivan the Quaffable
Tripel Threat