A 24 Hour Beer Road Trip (To Baltimore and Back)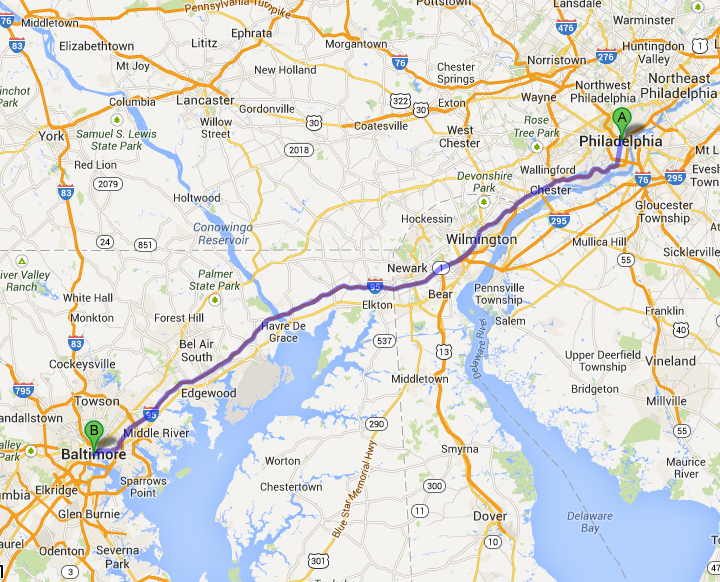 Note: Keystone Homebrew Supply does not condone drinking and driving. A designated driver would allow you to take full advantage of Aaron's beer-centric itineraries.
By Aaron Fournier
I got a fever. And the only prescription is some more beer traveling. Living in the Philadelphia area gives the distinct advantage (beer wise anyway) of being a short drive away from three different states, all with their own unique beer scene (and beer buying laws). Feel free to use this guide as an add-on to an already planned trip to any of these fine towns. But rest assured, our 24 hour blitz o' beer will do nicely too.
So we'll start our journey at the ripe time of 10:00am. If I can get ready and on the road that early, so can you.
Our first stop is going to be one of my favorite breweries in Delaware. And sorry, there's not going to be any fish of the dog variety in this trip. At around 11:30am, we're going to be landing at Stewarts Brewing Company in Bear, DE. They have a solid lineup of year-round beers, including a black and tan on the menu. My suggestion here is to ask for the black and tan to be made with the IPA, instead of the Golden Ale. The bartenders have always obliged, and you'll thank me as well. Stewarts always has a solid line of seasonals on, and hopefully one of their single hop beers is pouring while you are there. If looking for a nibble, the Bavarian Pretzel Sticks can't be beat (don't skimp on the house-made mustard!). But don't fill up on food here. Our next stop is a chow-down landmark.
Ok, I love BBQ – like, if it was legal to get married to it, I would. I love BBQ. We're going to be traveling into Baltimore, Maryland for a delicious bite to eat. A smidgen over an hour away and we arrive at a little place called CHAPS Pit Beef. By now it's probably around 1:30pm, and you're hungry! Now I'm not here to teach you the differences in BBQ, but this place is different from every other place you've been to. Saddle up and order the "beef". Feel free to add the word "sandwich" if you wish, but they'll know what you want. The fries with gravy and/or baked beans pair nicely as well.
After we've filled the belly with BBQ, it is time for more beer. Our next stop is less than 30 minutes away.
Over the interstate and through a tunnel we arrive at Frisco Taphouse. By now, it is probably around 3:30pm, taking into account potty breaks and occasional doddling. My first visit here was probably around 5 years ago, and Frisco seems to change a bit every time I come back. While I do not know if it is new ownership or not, this place is the best it has ever been. Now sporting 50 taps plus cask beer, I love popping a squat here for a beer or two whenever I'm in the area. Make sure you check out the local offerings we don't see too often in the Philly area, like beers from Devils Backbone and Heavy Seas. Drink local would ya! In my humble opinion, the food here is a tad pricey. So being the cheap homebrewer that I am, I usually arrive will a full belly. Considering the stop before though, that shouldn't be a problem.
Once you've soaked in one of the best good beer bars in Maryland, we hit the road again. I'll assume from my own experience that it is around 4:30pm-5:00pm. Now we start heading back towards home.
Our next stop is about 25 minutes away and is one of my favorite breweries, and one that just doesn't get enough acclaim if you ask me. It is the Brewer's Art in Baltimore. The Brewer's Art has always been known as being on the cusp of American made Belgian-style beers. And Pennsylvania's very own Sly Fox Brewing brews their bottled and canned offerings. But to truly get the range of their talents, you have to visit the source. You cannot go wrong ordering anything on tap. But if it isn't flowing through the draft lines, order a bottle of the Peppercorn Tripel. It will change the way you think of spices and beer. At least it did for me. If you need some sustenance, any of their appetizer plates of meat/cheese/veggies are awesome. It is a very chef-driven menu, so make sure you check out the fresh offerings. The rosemary garlic fries are very flavorful, which I freaking love. So if you order those, prepare to not give kisses to anybody for at least an hour.
One note on the Brewer's Art, is that they do not open until 4:00pm everyday, except Sunday (5:00pm opening time). So keep that in mind if using this as a guide instead of a trip.
Your BBQ (and whatever else you have had) has subsided, and you need something else to soak up the fantastic beer you have consumed. Our next stop has kind of a funny story behind it. Like any warm blooded human, I love pizza.
I make a trip down to Washington D.C. every so often (I'll cover that in another blog post) and like to grab something I can eat on the long journey back to Pennsylvania. Our next stop is a pretty unique pizza spot.
10 minutes away from The Brewer's Art is BOP Pizza. BOP Pizza's specialty (obviously its pizza) is the way it cooks its pies, in an old-fashioned brick oven. This gives it a pleasantly well-done character, while bringing out the flavor of the toppings. I usually grab the pepperoni and (mild) sausage pie, but anything you get is going to be great. Decide what you want, order up, and then drink some water while you wait. I normally eat a slice then hop in the car to drive to the next spot. It's not a bad idea to grab a water or soda for the next leg of the journey.
Now we have some waiting time, and it is probably around 7:00pm. Our day is almost done. Heading north for a little over an hour, we'll be going back into the home of tax-free shopping, Delaware.
Stopping at Two Stones Pub in Newark, Delaware allows us to stretch our legs on the half-point home, along with grabbing another brewski. There are 2 Two Stones Pubs, but the best one in my opinion is the one in Newark, Delaware. Home to some great small local breweries (again, fish of the dog variety not included), Two Stone is also home to some great Maryland and below-the-Mason-Dixon-Line variety beers. Step outside your comfort zone here.
Spend however much or little time here as you want. It is now time to go home. We're about 1 and a quarter hours away from home. Sometimes I skip this last stop, other times I stop for a beer, but more importantly to empty the chamber and throw out the pizza box.
No matter how you go, drink lots of water, and mind the ABV's of the beers. Part of the fun here is not only drinking lots of beer, but eating lots of even better food to absorb it all. Arrive at home sober, and fall into a food coma only to wake for work the next day. A food hangover is much better to wake up to than an alcohol hangover!