War of the Worts 2015 Is In the Books!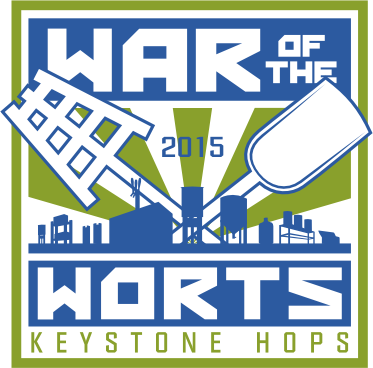 Neither rain, nor sleet , nor snow, nor task of judging 800 entries could stop the 20th edition of one of the largest homebrew competitions in the country, War of the Worts. The beers, ciders, and meads of local (and some not-so-local) home enthusiasts slugged it out for eternal bragging rights and world domination. Well, maybe not world domination, but bragging rights are just as good when it comes to homebrewed libations.
Super special congratulations are in order for Mark Livingston for winning Best of Show for his Standard American Lager, which as any homebrewer knows, is a tough style of beer to brew and impress the judges. Also, a man-hand high five to Tim Caum who's runner-up Best in Show Eisbock was chosen to be brewed by Neshaminy Creek Brewing and entered into the Great American Beer Festival Pro-Am competition.
A list of all the winners can be found here on the Keystone Hops Homebrew Club website
And a competition of this size would not be possible without lots of sponsors. Please support these businesses that support our love of homebrewing.