We Pull Up a Mash Tun with John Trogner (Troegs Brewing Co)

John Trogner – Co-Founder and Brewmaster at Troegs Brewing Co, Hershey, PA
By Aaron Fournier
On a warmer than normal April day, I hop into my trusty vehicle and make the pilgrimage to one of my favorite breweries. The drive there is very familiar for most of the trip. Before they moved, I had made this trek many times to fill my growlers and belly with delicious brew. I took their Saturday brewery tour no less than 6 times. But about a year ago, they uprooted from their home of 16 years and laid down roots in arguably a more famous town than their previous digs. OK enough with the intrigue. I'm talking about Troegs Brewing Company. Troegs was once the brewing pride of Pennsylvania's state capital; now the town made famous by a chocolate loving loon named Hershey can claim home to one of the most respected craft breweries in the country.
In a thankfully growing trend, more and more well established breweries are creating "destination breweries". More than a place to simply buy a growler of suds or take a tour when there's no real brewing going on, you get to enjoy all of the brewery's beers fresh from the source along with being able to see the brewing process from the vantage point of your bar stool. And for the seasoned beer nerd, a self-guided tour through the production facility. Cause really, if I have to stand through another spiel on what barley and hops are on a brewery tour, I'm just gonna lose it.
Arriving around noon, I mosey on up to the gigantic bar and order up a Sunshine Pils. As we'll talk about later in the interview, Troegs doesn't slouch on their seasonals, and I'm always looking forward to my pints of Sunshine. A bit later John comes out looking like he's fresh off running a large regional brewery, and he is. We pop a squat in the dining area and get to it.
Me: So for anyone who's been living under a rock, you guys moved here to Hershey from Harrisburg. What's the capacity of the new brewhouse here?
John Trogner: It does depend on the size of the beers, but we think the brewhouse is capable of doing 200,000 barrels. We're not planning on that, don't get me wrong. There's plenty of room to grow. We're not looking for world domination or anything.
Me: So, why Hershey? Were you looking for a place that would embrace you, or did you just want cheap chocolate?
John: To kind of back up into Harrisburg. We grew in that location over and over until the point where we couldn't physically put more there. Either we would have to expand outside of that brewery, literally to just the backyard and take over the rest of the building. But as we were looking at it, it was in a flood plane, we had literally been an island a couple of times. So putting our whole existence behind that concept was a bit challenging for us. So we started looking at safer areas just from water. We wanted truck access, we're brewers, we wanted a production facility. Then as we're looking at everything, they're all in office parks, or industrial parks. They weren't buildings that were inviting to our guests. We like to bring people in, show'em what we do, have them look around.
Me: The destination brewery
John: Right the destination brewery. Without doing a crazy farmhouse brewery in the middle of nowhere. We're a production brewery. We need the basics, water, electricity. We've actually been watching this building since we started the first brewery (in Harrisburg) and we were fortunate enough and to get an invitation to check it out one day. We jumped on it and the project snowballed from there. We love Harrisburg, we love being a part of Harrisburg. We love how easy it is to get to. The community there is phenomenal. Good structure of beer geeks and non-beer geeks. Hershey, we knew, would be a complete change. It's a lot of tourism. 4 million people travel to Hershey each year as tourists. And most of them come from our distribution radius, so we think it lines up perfectly. And with that, it's not just beer geeks. And we love beer geeks and showing them around. Now we also have the opportunity to introduce people to craft beer. People travelling from all over the region can get their first glimpse of what making beer means.
Me: Was there any issue matching the water from Harrisburg to here (Hershey)?
John: What we ended up doing is putting in a reverse osmosis filter.
Side Note: I got to see this up close and this water system is really damn cool.
John cont: We loved the water in Harrisburg but it did change throughout the year. Here, we are stripping the water and creating the perfect Harrisburg water without the seasonality.
Me: Sometime around 2006 a friend and I took the Saturday tour at the old brewery which you led. When it came time for questions, me being the inconsiderate beer geek that I was with maybe a beer or two in me, I asked how come Troegs hadn't come out with any new beers in a while. You then shot me a look as if you were going to come over and strangle me. You said that there were plans in the pipeline for new beers, and to stay tuned. That became the Scratch Beer series. Was this a way for your brewers to take a break from the production side or just R&D for future beers?
John: Both really. For us, it really wasn't monotonous brewing the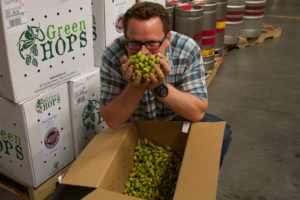 same beers all the time. For us the idea of keeping the beers the same all the time was the art. It's very hard to do. A lot of homebrewers would ask us if we were sick of brewing Hopback [Amber Ale] all the time. Well no, I love it. I mean, dialing it in and getting it perfect and that minute detail. That idea is foreign to a lot of people. We wanted to experiment with new ingredients and new styles and non-styles, but without being radical just to be radical. A lot of breweries fall into the trap of something new is double-this and triple-that, quadruple-this or extra spice or whatever. We were more about honing our art. The Scratch Series became a lot of fun. So now we had our normal production to be consistent, which to me is the science and art of it, and then the Scratch Beer Series which was the creativity side. That's why coming here there's a production brewery and then a separate brewhouse and cellar for the Scratch beers. And soon the Scratch brewery will have its own bottling line. So we'll have cork and caged bottles coming out of the Scratch brewery, if we want to. So basically two completely separate breweries in-house.
Me: It used to be that between the months of February and April almost all I drank was Nugget Nectar. The past two years, especially, that has changed. It has become hard to find, and taken on that commodity status (like many highly rated beers). Can you just not make enough of it to fill demand or is it something else?
John: Every year we've produced a lot more of it. And the demand has outpaced it. We actually have not increased our distribution in 4-5 years. So it's not like Philly's beer is going to California, which we hear a lot of. The cult following is just getting bigger and bigger.
Me: Troegs was founded in the middle of the brewery/brewpub boom and bust of the mid to late 1990's, but obviously Troegs survived and thrived. Do you see any parallels from when you opened to the "nano-brewery" movement going on now?
John: So when we opened in '96, it was a lot of non-beer people getting into the industry. There were some great startup breweries, not-so-great start-up breweries, and bad breweries, to use relative terms. So we had a weeding out period from '96 to 2000. Which to me was phenomenal. The difference was distribution shut down for most breweries. Most wholesalers wouldn't take on new breweries during that time. Which is part the reason we only distributed to Central PA, because nobody would pick us up, which turned out to be a blessing in disguise. Today, even the nano-breweries starting up are way ahead of the start-up breweries then. The technology's different, the awareness is different, the taste buds are different, even the public is different. It's just a higher-end mindset. I think we're missing the negative component of '96, but we have the positive component of consistency and creativity and caliber of brewing. Wholesalers are also more open to taking on new breweries. There's never been more of an opportunity for wholesale beer than right now. I don't know how long that window will stay open, but its here now.
Me: Have you ever had to dump a batch of beer here at Troegs?
John: Absolutely. If you're not dumping beer you're not trying new things, not paying attention to what's going on, or you don't care what's going on. Especially when we first moved over, I mean hundreds and hundreds of gallons. It just didn't meet the same profile and taste that we wanted.
Me: So to put an end to homebrewing speculation, what is the house yeast here at Troegs?
John: Same as Sierra Nevada
Me: So the Chico strain (Wyeast 1056 and White Labs 001). Why?
John: We wanted a nice canvas to build malt and hops on, and it's durable. It's a workhorse. I mean you can ride it hard and put it away wet and it works great.
Me: The yeast you use for Mad Elf. Is that a Saison yeast or Chouffe strain of yeast?
John: Very similar, in between Chouffe and Chimay
Me: That's pretty far in between, Chouffe and Chimay (this is where the conversation got really nerdy)
About 10 minutes of talking yeast and brewing terms I wouldn't bore my worst enemy with; John said that for homebrewers, the Westmalle strain (Wyeast 3787 and White Labs WLP530) would best replicate the spice and yeast-driven flavors for homebrewers.
John and I talked beer and brewing for quite a bit more after that, but I knew I needed to let him get back to running his brewery. I then grabbed a pint of Nugget Nectar and then got shown around by their resident communications guru Jeff, who was nice enough to show me some of the marvelous equipment innovations they've installed. Along with, of course, their barrel room.
Take a day, and make the trip. Troegs is expecting you.

Chris & John Troegner – Founders of Troegs Brewing Co