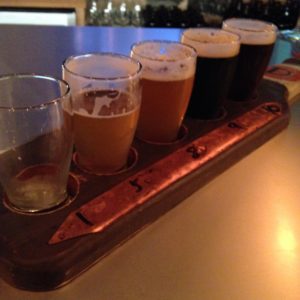 New breweries are always exciting. Sure, you are going to see the staples of any brewing company; there will always be an IPA, an Amber Ale, and usually a Lager that will help promote the accessibility of the brewery to their public. However, it is oftentimes the labors of love, the out-of-left-field beers that stand out on a menu like an exclamation point that really help a brewery to showcase its style and personality. Doylestown Brewing Company, the newest brewery to hit the borough running with a selection of fantastic and unique beers that is sure to keep people coming back.
Doylestown Brewing Company is located in the lower level of the Main Street shopping center right in the heart of downtown Doylestown. When you walk in you are immediately greeted by the contrasting eighty year old architecture and modern bar design. The staff was friendly, and the menu contained a selection of ten different beers, starting with their classic R5 lager and working all the way down to the Bikeworks Boneshaker Bourbon Porter (which we'll get to in a minute). Food can be ordered from the two restaurants upstairs to be delivered downstairs as well, a good twist on the normal array of bar food options.
The beers themselves show years of experience and celebration of East Coast brewing traditions. The R5 lager and Union Street IPA are sure to be instant classics at the brewery, their balanced flavors present an easy drink-ability that I expect to see on store shelves within the next year. Doylestown Brewing Company has taken a different approach to design and marketing. They are working with local companies in the area to co-create a beer and then cross promote the businesses. The first result of this effort has come in the form of the Bikeworks Boneshaker Bourbon Porter. This complex, rich beer may not be the perfect drink after a long bike ride, but it is a must for anyone looking something off the beaten trail. Other notable menu options include the Peaky Blinder Dry Irish Stout and Chapman Cream Ale.
Below is a review of the five beers I had the opportunity to try during my first visit. These are purely subjective and of course bend with my personal tastes and preferences.
R5 Lager: 7.5/10 – Great taste, will get better with each new brew for sure.
Chapman Cream Ale: 8/10 – A surprisingly refreshing ale with an emphasis on the malt taste.
Flying Squirrel: 6/10 – Decent session IPA, I was not wow'd by it, but would certainly enjoy it at a party or with friends.
Peaky Blinder Dry Irish Stout: 9.5/10 – I am a sucker for anything with coffee or chocolate notes, and the dryness from the roasted barley was a brilliant twist.
Bikeworks Boneshaker Bourbon Porter: 9/10 – Easily their most distinctive beer. A must for anyone visiting the brewery, especially for the first time.
For more information about the Doylestown Brewing Company, check out their website at http://www.doylestownbrewingcompany.com/