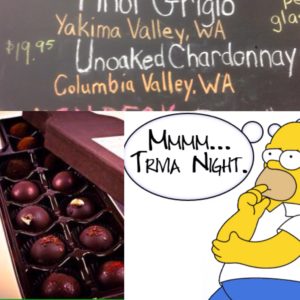 We have a very busy weekend coming up! Whether you're picking up a gift for your significant other in the Homebrew Shop, or want to take them to do something special, we have you covered!
Reminder, you can always pick up a Gift Certificate as a gift for your favorite homebrewer!
EVENTS HAPPENING AT STONE & KEY CELLARS
– 2014 Columbia Valley WA Unoaked Chardonnay AVAILABLE NOW
– FRI, FEB 12, 7-9pm: Romantic Themed Trivia Night in the Winery.
– SAT, FEB 13: Haymaker Meadery release of new mead, Razbarrel.
– FRI – SUN, FEB 12-14: Wine & Chocolate Pairing with Laurie's Chocolates will be available for purchase! Just $38 when you pre-order, comes with five wine and chocolate samples for you and one other person! Call now to make a reservation.