Malt Madness 2020
Registration for new entries are OPEN for Malt Madness by Lehigh Valley Homebrewers!
CLICK HERE to learn more, and to register your brews!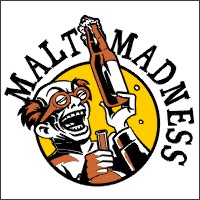 Competition Details:
Malt Madness (beer/mead/cider) is open to all home brewers.
All beers, meads, or ciders must be non-commercial in nature and produced at home.
All entries must be registered and paid for online.
The entry fee is $8 per entry.
Each entrant is limited to five (5) entries.
Although 12-ounce bottles are strongly preferred, entrants may submit two bottles ranging from 10- to 16-ounces in volume for each entry. NO SINGLE BOTTLE ENTRIES will be accepted for beer categories.
Entrants proposing to submit one 750 ml bottle for meads or ciders must contact the Competition Organizer first. Single Bottle entries of meads and ciders will not be eligible for Best of Show awards
Bottles may be brown clear or green glass, and must be free of any labels, etched logos, or other identifying marks. Swing tops are acceptable. Cans will be accepted
A completed entry form must accompany each entry; recipes are not required. If entering more the one beer, make sure the correct entry form accompanies each entry.
A bottle ID form must be attached to each bottle with a rubber band. Only use the bottle label provided by the registration process!
Categories and sub-categories may be combined for judging purposes, however beers, meads or ciders will be judged according to the subcategory in which they are entered. The 2015 style guidelines for each category and subcategory available directly on the BJCP website, here.
We are accepting entries from the new provisional styles, as determined by the BJCP, here.
It is the responsibility of the brewer to decide and indicate on the entry form the appropriate category and subcategory for their entry.
Entries which do not meet these entry requirements may be disqualified.
Depending on the number of entries and category distribution, categories and subcategories may be combined or separated for judging and awards purposes. These judging table breakdowns will not be available prior to the competition and will be determined by the Competition Organizer once all entries are processed.
Any disputes that arise before, during or after the competition will be settled by the Competition Organizer.
Brewer feedback is the primary purpose of Malt Madness. Your score sheets will be returned to you shortly after the contest. Please DO NOT send a SASE with your entry. Scoresheets will be scanned and uploaded to the registration site.